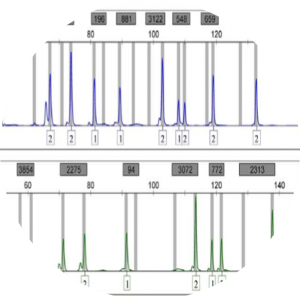 Human Ancestry and Admixture Inference by Insertions/Deletions (AIM-Indel) kit
The AIM-INDEL kit is a multiplex PCR of 46 ancestry-informative insertion deletion polymorphisms selected to infer the likely ancestral origin of an individual or estimating the apportionment of ancestry components in admixed individuals or populations.
All markers are analyzed in short fragments (under 230 basepairs) through a single PCR followed by capillary electrophoresis (CE) allowing a very simple one tube PCR-to-CE approach.
The kit is a simple and informative assay, enabling a more straightforward alternative to the commonly available AIM-SNP typing methods dependent on complex, multi-step protocols or implementation of large-scale genotyping technologies.
The AIM-INDEL kit combines the ancestry informative power of biallelic markers with the simplified analysis based in fragment size separation (as in STR typing). The methodology of the assay is straightforward and can be readily and inexpensively implemented in any molecular genetics laboratory.
The assay allowed a rapid and cost-effective genotyping of a large number of samples with different origins and admixture levels.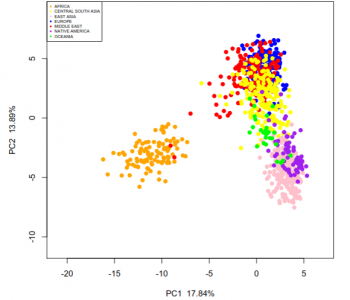 Specifications and recommendations

(others setting may be used with proper adaptations)

Components

AIM-Indel Primer set (10X)

Product Size

50 reactions (K002AL)

100 reactions (K002BL)

Equipment
ABI Genetic Analyzer (310, 3100, 3130, 3500, 3730 or equivalent)
Dye
6-FAM, VIC, NED, PET
Size Standard
GeneScan™ 500 LIZ®
Filter Set
G5
Separation Polymer
POP7, POP6, POP4
Sample Type
DNA
Sample Volume
10 µL/reaction
Technique
Fragment size determination (similar to STRs)

APPROPRIATE FOR LOW-QUANTITY AND/OR DEGRADED DNA SAMPLES
The AIM-INDEL markers yield short fragments under 230 bp that enable increased sensitivity in the genotyping of highly degraded biological material.
SUITABLE FOR DETECTION OF MIXTURES
The kit has an increased capability to detect mixed-source DNA, since Indels produce much more balanced peak patterns (within locus, the two alleles for a heterozygote show similar peak heights) than those of single base extension SNP tests.
APPROPRIATE FOR A HIGH THROUGHPUT SAMPLE ANALYSIS
The use of less time-consuming, cost-effective and efficient automated fluorescent DNA detection makes our method suitable for high throughput sample analysis with conventional laboratory equipment.​
LARGE DATABASE FOR ANALYSES
The data generated can be compared with a large database of reference samples collected worldwide.
REDUCED RISK OF CONTAMINATION
The direct workflow minimizes manipulation, risks of contamination or sample mixups, and reduces to a minimum the number of variables affecting the end result.
ALL INFORMATION IN A SINGLE REACTION
The PCRs can be carried out in a single multiplex PCR containing all 46 primer pairs. The largest multiplex commercially available.
Interested in our product?
Ask for a quote!
Didn't find what you were looking for?
Contact us and we will find the solution.