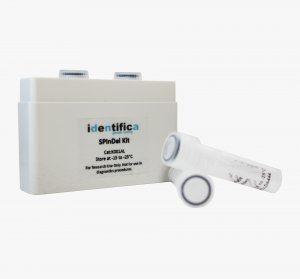 Species Identification by Insertions/Deletions (SPInDel) kit
The Species Identification by Insertions/Deletions (SPInDel) kit allow the identification of human genetic material on a biological sample, a preliminary step in many investigations.
The kit identifies several mammalian species, including Cat (Felis catus), Dog (Canis familiaris), Cattle (Bos taurus), Goat (Capra hircus), Pig (Sus scrofa), Horse (Equus caballus), Rabbit (Oryctolagus cuniculus), Sheep (Ovis aries) and Mouse (Mus musculus).
The kit is an alternative to DNA sequencing that uses a conventional genotyping methodology similar to that employed with Short Tandem Repeats (STRs), involving multiplex PCR followed by fragment size determination using capillary electrophoresis.
The identification of species with the SPInDel method is achieved by the amplification of six hypervariable regions in mitochondrial ribosomal RNA (rRNA) genes using highly conserved PCR primers.​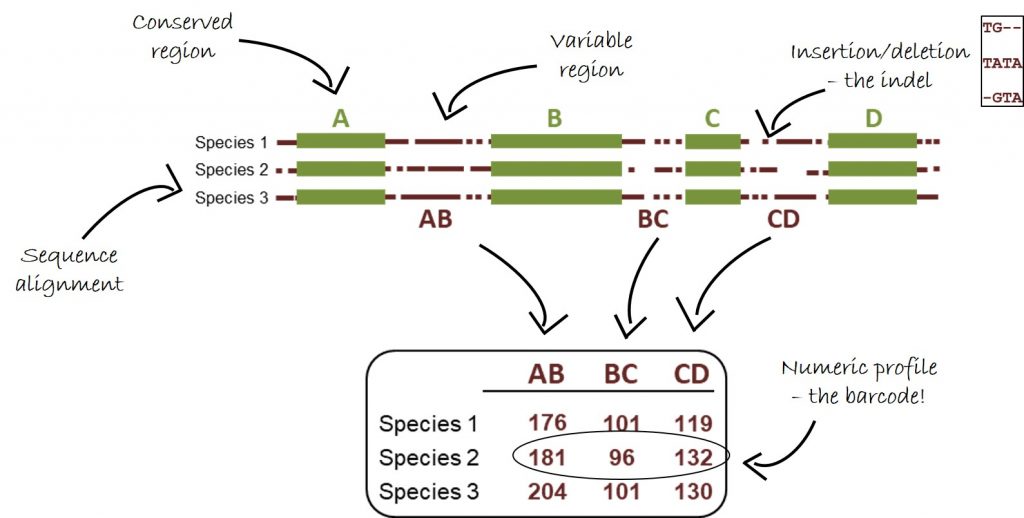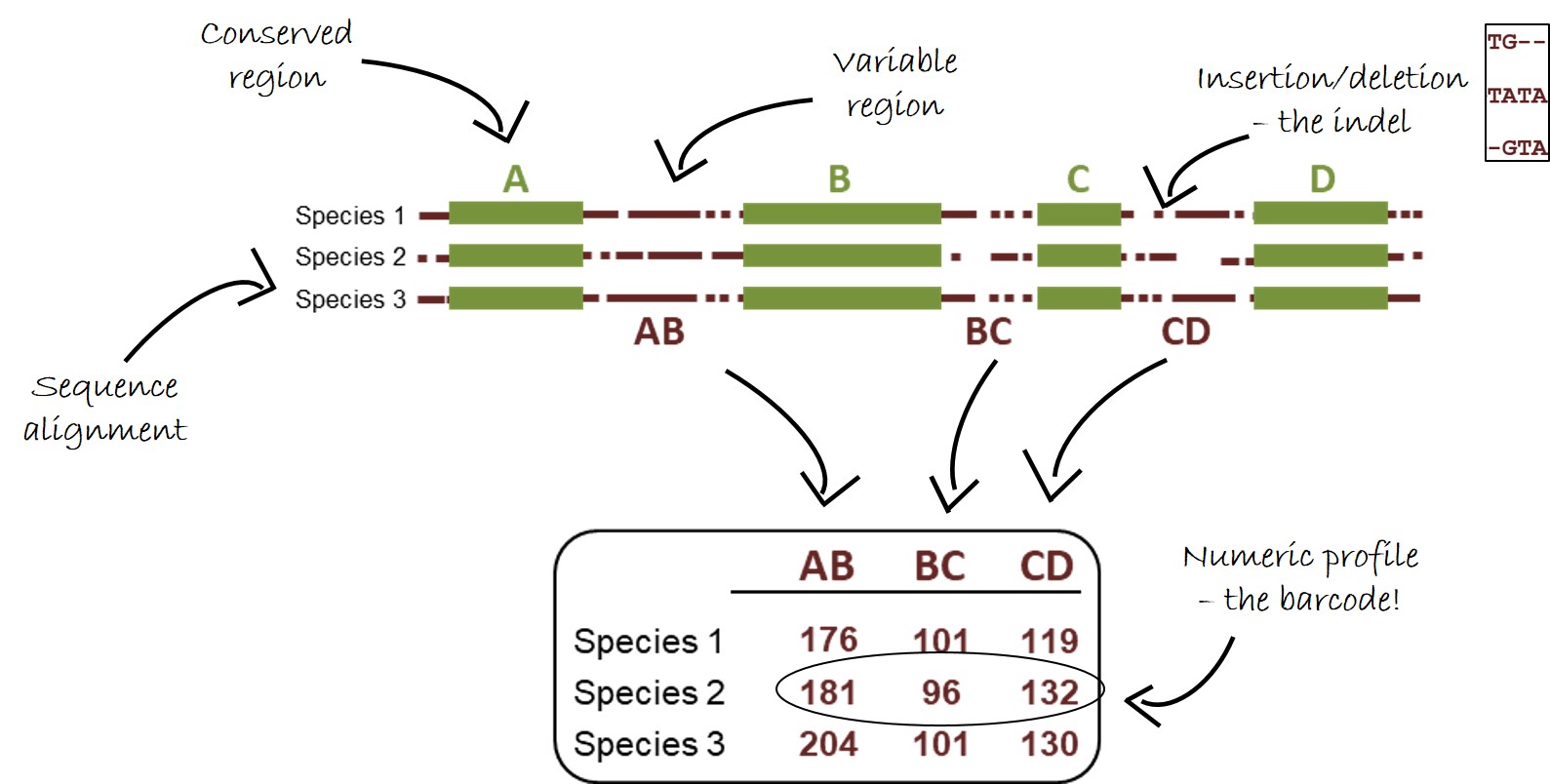 Each species is defined by a unique numeric profile of fragment lengths (i.e., a numeric barcode) resulting from the combination of the length of indel-rich regions.
The kit includes an allelic ladder to help in the analyses.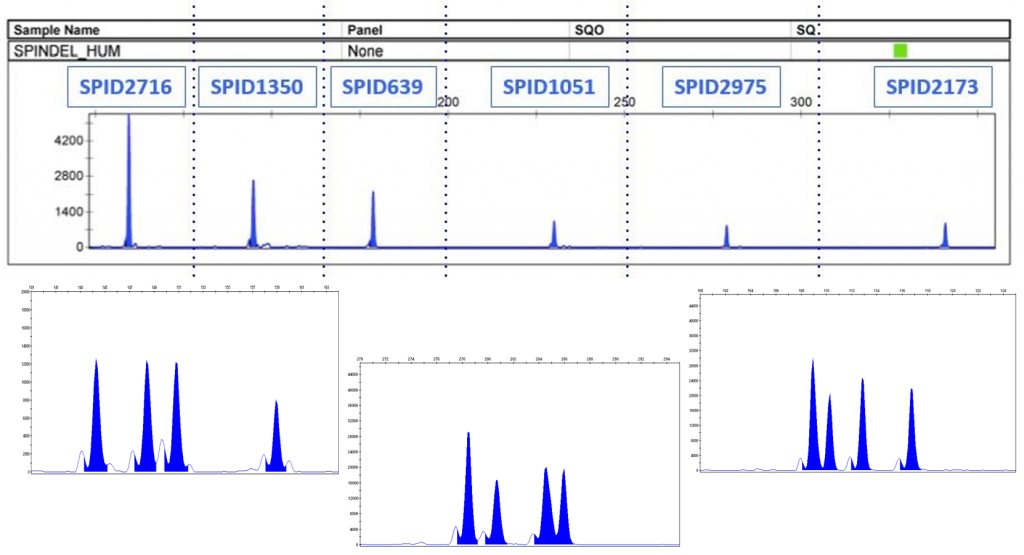 Specifications and recommendations

(others setting may be used with proper adaptations)

Components

SPInDel Primer Set (10x)

SPInDel Allelic Ladder

Product Size

50 reactions (K001AL)

100 reactions (K001BL)

Equipment
ABI Genetic Analyzer (310, 3100, 3130, 3500, 3730 or equivalent)
Dye
6-FAM
Size Standard
GeneScan™ 500 LIZ®
Filter Set
G5
Separation Polymer
POP7, POP6, POP4
Sample Type
DNA
Sample Volume
10 µL/reaction
Technique
Fragment size determination (similar to STRs)
Shipping Condition
Dry, room temperature
APPROPRIATE FOR LOW-QUANTITY AND/OR DEGRADED DNA SAMPLES
The SPInDel targets the mitochondrial DNA (mtDNA), which is present in many copies per cell, and amplifies short DNA fragments (3 out of 6 loci have less than 200 bp). Therefore, it is appropriate for difficult samples with degraded DNA, where nuclear DNA-based methods fail.
SUITABLE FOR DETECTION OF MIXTURES
The SPInDel assay uses fragments lengths to achieve identifications. Because different species have different fragment lengths, they are easy discriminated in a sample. This feature overcomes one important drawback of DNA sequencing-based methods.​
APPROPRIATE FOR A HIGH THROUGHPUT SAMPLE ANALYSIS
The use of less time-consuming, cost-effective and efficient automated fluorescent DNA detection makes our method suitable for high throughput sample analysis with conventional laboratory equipment.​
INCREASED GENOTYPING EFFICIENCY
The simultaneous amplification of 6 mtDNA regions considerably increases the discriminatory efficiency of the procedure by avoiding the complete absence of results in cases with non-amplified loci – a severe limitation of methods relying on singleplex PCR.
NO NEED FOR DNA SEQUENCING
The SPInDel assay only requires an electrophoresis after PCR. There is no need for DNA sequencing reactions, making our method less time-consuming and expensive.
SUITABLE FOR DETECTION OF A WIDE RANGE OF SPECIES
The design of PCR primers in highly conserved mtDNA regions is particularly useful for a broad range of species detection. Successful discriminations are achieved among several species of mammals, birds and fishes.
_
Pereira F, Carneiro J, Matthiesen R, van Asch B, Pinto N, Gusmão L, Amorim A.
Identification of species by multiplex analysis of variable-length sequences.
Nucleic Acids Research. 2010. 38 (22): e203.
Carneiro J, Pereira F, Amorim A.
SPInDel: a multi-functional workbench for species identification using insertion/deletion variants.
Molecular Ecology Resources. 2012. 12(6):1190-5.
Gonçalves J, Marks CA, Obendorf D, Amorim A, Pereira F.
A multiplex PCR assay for identification of the red fox (Vulpes vulpes) using the mitochondrial ribosomal RNA genes
Conservation Genetics Resources. 2015. 7(1): 45-48. DOI: 10.1007/s12686-014-0343-0
Alves C, Pereira R, Prieto L, Aler M, Amaral C, Arévalo C, Berardi G, Di Rocco F, Caputo M, Carmona CH, Catelli L, Costal HA, Coufalova P, Furfuro S, García O, Gaviria A, Goios A, Gómez JJB, Hernández A, Hernández ECB, Miranda L, Parra D, Pedrosa S, Porto MJA, Rebelo ML, Spirito M, Torres MCV, Amorim A, Pereira F.
Species identification in forensic samples using the SPInDel approach: A GHEP-ISFG inter-laboratory collaborative exercise
Forensic Science International: Genetics. 2017. 28: 219–224. DOI: http://dx.doi.org/10.1016/j.fsigen.2017.03.003
Interested in our product?
Ask for a quote!
Didn't find what you were looking for?
Contact us and we will find the solution.